Friday night brought heavy mountain snow, high winds in some areas and a wintry mix or rain for others across the Mid-Columbia.
Expect temperatures to warm above freezing in the valleys today, with some helpful melting of ice and snow that's built up over the past 7 days across the region.
Snow or a wintry mix returns tonight through Sunday. Colder air moves in to start off the work week.
For a list of current weather alerts where you live, click here.
Here's a current look at mountain pass conditions courtesy WSDOT cameras:
MOUNTAIN PASSES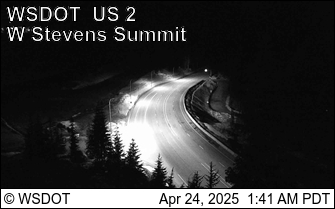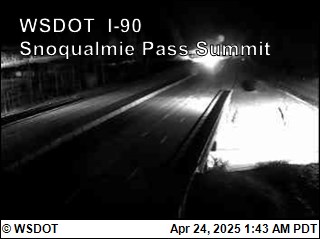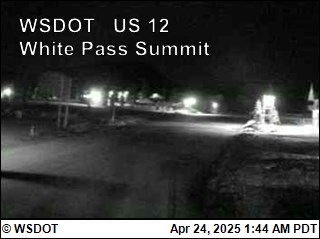 I-84 at Meacham TripCheck Report
TRAVELING DURING WINTER WEATHER
When it comes to ice and snow on the roads, travel with caution. Many drivers believe because they have the proper snow tires or a vehicle that they don't have to follow this guideline. Even if a driver is skilled at driving through ice-covered streets and highways, there are many drivers out there that are not. Therefore, the more experienced driver could find themselves in a tough situation when faced with an inexperienced driver. Also, law enforcement and first responders are also at risk as they respond to crashes or people that need immediate help. Give them some space and slow down.
Drivers who are out on the roads, especially in winter weather conditions, should make sure to always have the following items in the car:
Cell phone, portable charger, and extra batteries
Items to stay warm such as extra hats, coats, mittens, and blankets
Windshield scraper
Shovel
Multi-tool (Swiss Army Knife)
Battery-powered radio with extra batteries
Flashlight with extra batteries
Water and snack food (beef jerky, granola, nuts, dried fruit, peanut butter, hard candy)
First aid kit with any necessary medications and a pocket knife
Tow chains or rope
Tire chains
Canned compressed air with sealant for emergency tire repair
Cat litter or sand to help tires get traction, or road salt to melt ice
Booster cables with fully charged battery or jumper cables
Hazard or other reflectors
Bright colored flag or help signs, emergency distress flag, and/or emergency flares
Road maps
Waterproof matches and a can to melt snow for water
If you are driving in winter conditions and your car breaks down or you go off the road, walking to get help could put you more at risk. Assess the situation before leaving your vehicle. With freezing temperatures, unless your vehicle could be a hazard, you need to use it for shelter. If you stay with your vehicle, make sure to clear the area around your tailpipe from debris and snow before you keep your car running for heat.
Don't use cruise control while driving in winter weather. You could encounter black ice. Black ice is thin, transparent ice that blends in with the color of the road. If your car starts to slide, take your foot off the brake and steer the wheel in the direction your car is going. If your car's back end is sliding left, take your foot off the brake and steer left.
If your car becomes covered in ice, don't pour hot water over the ice to break it up. You can crack your windshield or other glass. You can buy de-icer at a store or you can make one at home. Use one part isopropyl alcohol (known as rubbing alcohol) and two parts water. Make sure it is at room temperature before you spray or put it on the ice-covered glass.
Before heading out to drive in winter weather conditions , check your tires. Make sure they are at the right PSI. This is also a good time to check your battery and make sure it is in good working order.
WINTER WEATHER ALSO MEANS PROTECTING THE FOUR PS: PEOPLE, PETS, PLANTS AND PIPES!
People: Check on your friends and family to make sure they are doing all right or if they need any help. Don't just stop there. Check on your neighbors, especially if they are older and may not be able to salt/sand their walkway or driveway.
Pets: Your furry friends need to have a place to go if they are usually outside. Make sure there is food and water available to them. Make sure they have a shelter they can go to if there is heavy rain or snow.
Plants: Cover those plants if they are not winter-friendly.
Pipes: Make arrangements to have your pipes insulated if you can. You can also leave a faucet dripping overnight and that can also help. Cover outside hose spigots and drain the water out of sprinkler and backflow systems. Make sure you know the location of the water shut-off valve so you can quickly shut the water off in case of an emergency. If there is a power outage that lasts longer than 24 hours, stop dripping the faucets.
USING A GENERATOR
Never use a generator inside your home or garage, even if the doors and windows are open. Generators are to be used outside, at least 20 feet away from your home, doors and windows. If you are using a generator, make sure there are working carbon monoxide alarms on every level of your home and especially outside sleeping areas. If the alarm goes off, get to an area that has fresh air like an open window or outside. Call 911 immediately.
USING A SPACE HEATER
If you have to use a space heater for warmth, choose a safe product. Don't bargain hunt and look for a product that has been tested by a third party for safety. There will be a UL listing or UL rating on the device. Look for a device that has an automatic shut-off if it is tipped over or is overheating. Never plug a space heater into a power strip or extension cord. Do not leave it unattended, including going to sleep. Don't trust the timers as that can provide a false sense of security. Always make sure you have battery operated smoke detectors that you are monitoring with frequent checks.